The iQ Tag Management dashboard provides an overview of your account's configuration, Tealium server usage, and published changes.
How it works
The dashboard is the default view when you log into iQ Tag Management. The dashboard displays a summary of the profile configuration, tag metrics for the current profile, and a list of recent changes. Use the dashboard to quickly jump to a specific area within your account.
To access the dashboard, from the sidebar select iQ Tag Management > Dashboard.
Account summary
This section provides an overview of the top panel sections: Summary, Profile Tag Report, and Recent Profile Changes.
Summary
The Summary section displays the total number of active and inactive tags in the pie chart. Hover over any area of the chart to display the tag category name and the number of tags you have configured for that category. The total number of variables, rules, tags, and extensions appear across the top. Click any item to go directly to that configuration section.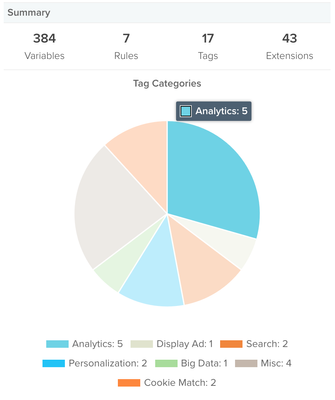 Profile Tag Reports
The Profile Tag Reports section displays a summary of your usage: visits, uTag loads, and vendor tag loads. Click the arrow in the upper right of any graph to go directly to Tag Reporting. From there, you can adjust the perspective and modify date ranges using the drop-down calendar. Viewing different perspectives and date ranges give you a general view of your organization's tag usage for basic IT purposes.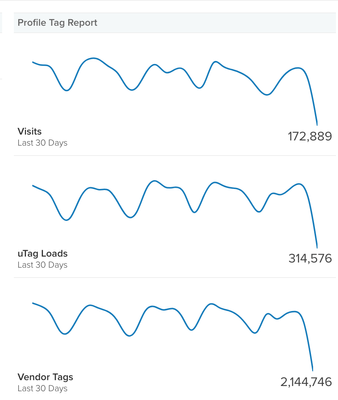 Recent Profile Changes
The Recent Profile Changes section shows the recently published versions in the Dev, QA, and Prod environments. This area provides the following:
Currently Loaded Version
The red pin indicates the currently loaded version.
Publish Environment View
Click the All Changes drop-down list to filter the view by environment. The displayed versions will reflect the selected environment.
Switch to Version Click the arrow in the upper-right corner of a version to quickly switch to that version of the account/profile.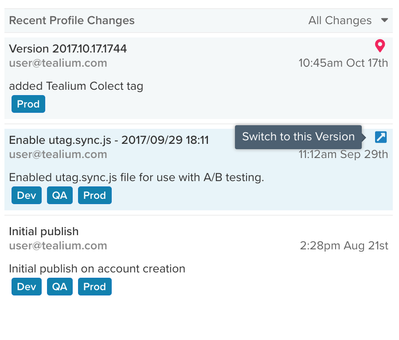 Tealium Learning Center Resources
The bottom panel displays a list of Tealium Learning Center (TLC) resources.
Community Forums
Community Forums allow you to ask questions to other users of the product, share tips and tricks, join in targeted discussions, and earn expertise badges and kudos within the community.
Submit Your Ideas
Takes you directly to the Product Ideas page where you can submit an idea for a new feature or enhancement, view and vote on other ideas submitted, discuss feature requests, and vote for your favorites.
Tealium Education Online
Links directly to Tealium Education online where you can view available live training and certification details or sign up to build your skills and learn Tealium essentials at your own pace.
This page was last updated: March 8, 2023