Use the following tools to validate that your utag.js installation is working properly.
Universal Tag Debugger
The Universal Tag Debugger (or "utag debugger") provides an easy way to validate your data layer and tracking calls in real-time as you navigate your site. It's similar to Web Companion, but is focused on the data captured by each tracking event within utag.js.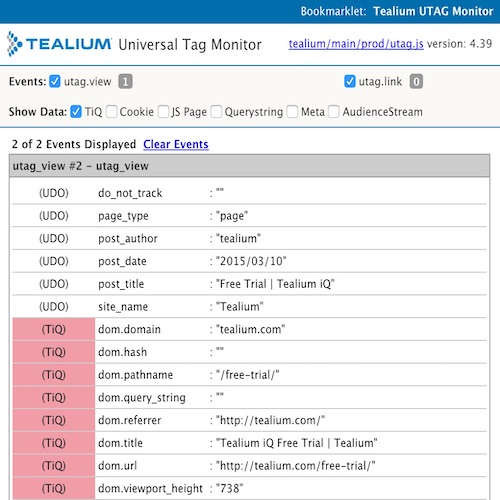 The tracking calls made by utag.js are displayed and updated in the tool as you navigate or trigger in-page events.  
Web Companion
Web Companion is a browser tool that allows you to audit your tag configuration, inspect data on your site, and create and test new configurations quickly and easily.  Launching this tool will quickly verify that the utag.js library is loading properly on your site.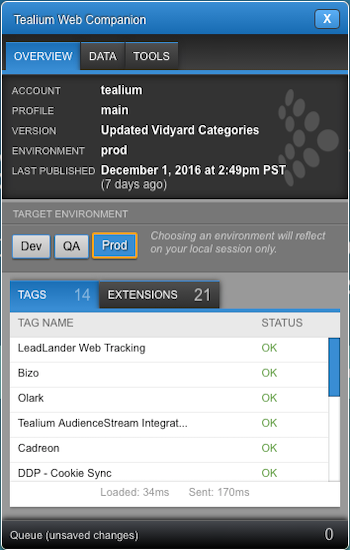 Account Information
The current account, profile, version, and environment that the page is running is displayed under this tab. 
Target Environment
The environment detected in the page will be outlined in orange. The currently viewed environment will be highlighted in blue. You may view any of the three environments by clicking the desired button and reloading the page and relaunching Web Companion.
NOTE: Allow the webpage to finish loading before restarting Web Companion.
Tags & Extensions Tabs
This tab will show which Tags loaded and whether they successfully sent requests. The Extensions that are successfully completed will also be displayed.
Timers
The load and send times of each Tealium JavaScript library are displayed at the bottom of the tab.
Saving Changes
Changes applied to the profile through the Web Companion are queued at the bottom of the bookmarklet and will not be committed until you click the "Save…" button. If you do not wish to commit a change, you may also remove that change from the queue by clicking on the X button next to the appropriate change.