This article describes the Tealium Predict ML product and how it is used to create, train, and deploy machine learning models to make predictions about visitor behavior.
Interested in Predict?
Predict is an add-on feature for customers who have AudienceStream. If you are already a Tealium customer, contact your Customer Success Manager for a demo and to learn more about Predict. If you are a new customer, contact us to request a demo.
Tealium Predict is a built-in machine learning technology product used with the Tealium AudienceStream CDP product that takes a complicated discipline (machine learning) and distills it down to a fully-managed feature. Tealium Predict works with Tealium AudienceStream to build and create more intelligent audiences and activate trustworthy machine learning insights.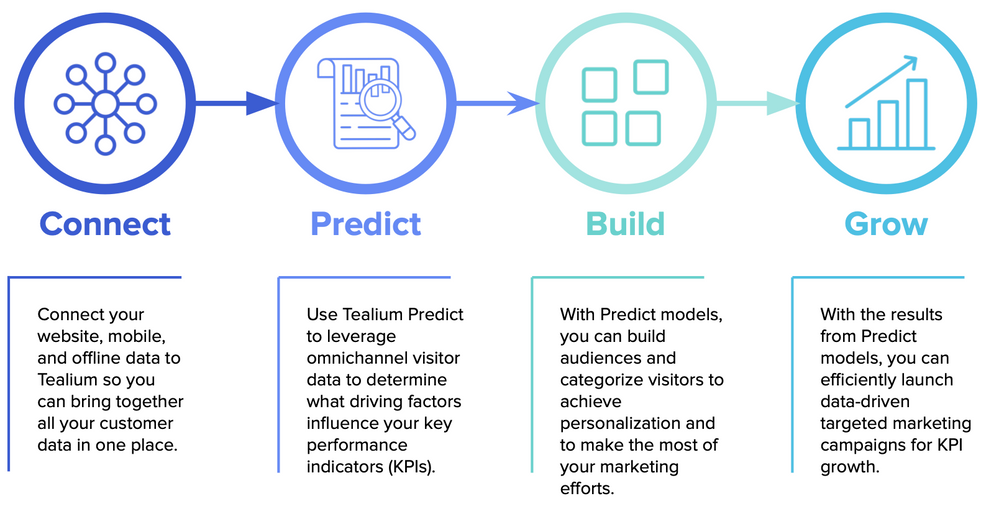 Using Tealium Predict, you can create, optimize, and deploy data models that make meaningful predictions about visitor behavior allowing you to determine:
The driving factors that influence your key performance indicators (KPIs). For example, which types of customers are likely to make online purchases.
Which marketing channels within your website drive purchases.
Categories of online visitor segmentation to apply successful customer personalization.
Deployed models are managed by Tealium in real-time using a predictive output attribute that is made available to you after your model is trained and deployed. In just a few clicks, you can create audiences by categorizing visitors based model scores and target them with personalized experiences to drive ROI.
Key benefits
Key benefits of Tealium Predict include the following:
Leverage Machine Learning Intelligence Across your Entire Implementation
Automatically activate predictive insights in any of Tealium's over 1,200 integrations.
Simplification
Tealium Predict technology simplifies the implementation of machine learning for you without the need for a data scientist or dedicated team. You can create a model, deploy it, and immediately activate the value in AudienceStream without writing a single line of code.
Predict Customer Actions
Automatically draw conclusions about what actions customers are likely to take in the future and design tailored programs that directly address their needs.
Personalization
The Tealium Customer Data Hub allows you to pinpoint meaningful visitor personalization data.
Reduce Time Spent on Machine Learning Projects that Involve User Data
Data collection and analysis are natively integrated with machine learning intelligence, greatly reducing time spent on data preparation and activation.
Score Customers with Predictive Potential
Technology built into the model produces a score for visitors with the likelihood to return or complete a specific behavior. You can then leverage the scores to generate audiences for further proactive action, such as re-engagement campaigns.
Customer use cases
To learn more about the real ways that machine learning and customer data can drive revenue through improved customer experiences, see Tealium Predict ML: Top 5 Emerging Machine Learning Use Cases with Customer Data. These customer use cases cover perspectives from marketing, customer experience strategists, and data scientists including:
Proactive Marketing: Machine Learning-Powered Segmentation
Marketing Efficiency: Improve Purchase or Conversion Rate
Customer Retention: Reduce Churn
Customer Experience: Funnel Optimization
Predictive Analytics: Get Customer Insights and Validate Assumptions
This page was last updated: February 21, 2023