This article explains how to use the profile switcher.
How it works
Each account can contain several profiles. The profile switcher allows you to quickly switch accounts, profiles, and profile versions.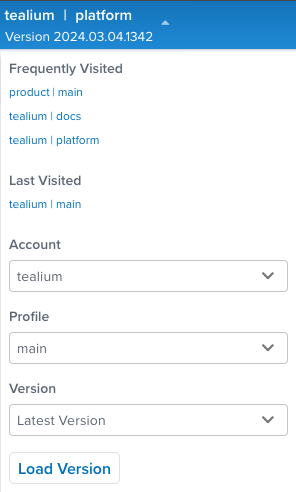 When you first load Tealium iQ Tag Management, the profile switcher displays the most recent version of the current profile.
Switch profiles and versions
Use the following steps to switch to another profile:
Click the profile drop-down menu.
From the Profile drop-down menu, select the profile you want to switch to.
From the Version drop-down menu, select the version of the profile to switch to.
Click Load Version.
You can also use the Switch to this Version option in the Versions screen to switch versions.
This page was last updated: July 12, 2023