This artlce explains how to detect a tag on your site from its code and add it to your Tealium profile.
Adding a tag to your profile involves multiple steps: search for your tag, add it, configure it, then save and publish. If you wish to fast-track this process, use the Detect Tag from Code tool. This tool extracts the tag parameters from your vendor code snippet and automatically configures the tag for you. Here's a step-by-step tutorial.
In the sidebar, click iQ Tag Management > Tags.
Ensure that the Tag Marketplace Policy is disabled.
Click + Add Tag.
Paste the code provided to you by your tag vendor.
Click Detect Configuration.
This signals Tealium to parse the tag snippet and extract its parameters.
Upon detecting a match for the code snippet, the tag and its configurations display below your code snippet.
Hover over the tag name and click + Add to add the tag to your profile.
If the tool fails to detect the vendor code snippet, you can search for and add a tag using conventional methods. You can optionally choose from a set of Tealium custom containers with which to add your desired tag if you cannot find it in the Tag Marketplace.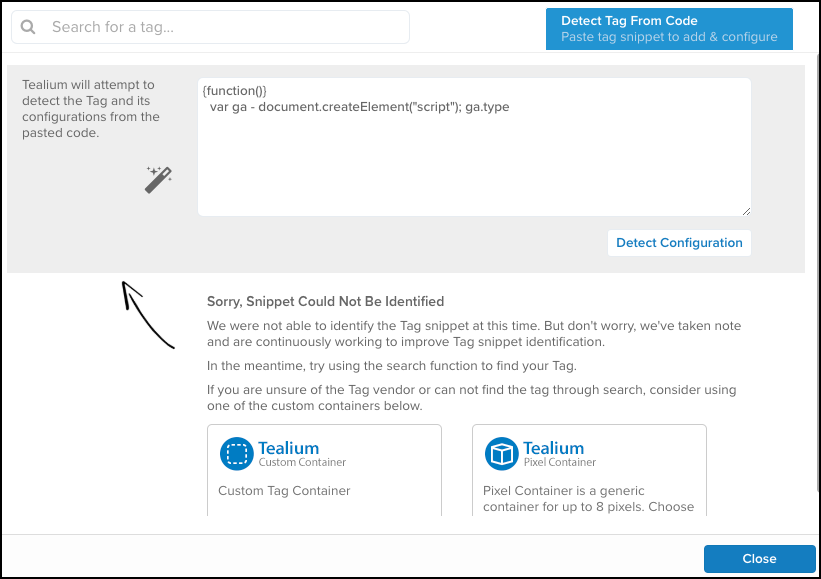 Hiding tags via the Tag Marketplace Policy will prevent the tool from detecting the matching code snippet.
This page was last updated: May 24, 2023