This article explains how the Customer Data Hub manages changes from concurrent users.
The Customer Data Hub offers basic concurrent user support for users that are logged into Customer Data Hub at the same time. The options available to you are dependent on whether you have unsaved changes of your own.
To begin, all active users should be working on the latest published version of a profile. Users are informed when changes are introduced by other active members, regardless of whether or not the change has been saved and published.
Viewing other active users
When you log in to the Customer Data Hub, the product component that you are working in is highlighted in blue in the left navigation bar. If another user is also logged into Customer Data Hub and active, that user's initials appear as a circle with a unique background color at the top of the screen. The same unique color is used to highlight which area of the product the other user is currently working in, as shown in the following example: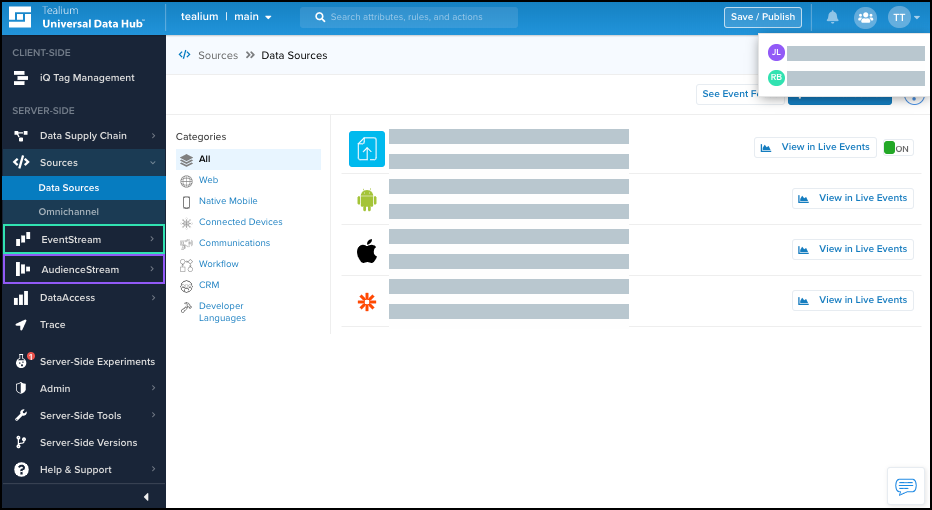 Acknowledging that another user has initiated a change

If another active user has started a change, whether or not they have saved and published the change, a message appears to let you know that a change is in progress that has not been saved and published. Click Got it to acknowledge the message.
Before you save, contact that user to ensure that your changes do not overwrite each other.
When an update from another user is detected
When another active user saves and publishes an update, a message appears to inform you that your profile is now out of date. The message contains the email of the user that made the change and the version name. Select one of the following options:
Get the Latest
Click this option if you have not made changes that you want to save. If unsaved changes are pending, your changes will be lost.
Keep Working
If you select this option, you can continue with your own work, and then save and publish. Once you save and publish, the previous changes by other users are overwritten.
This page was last updated: February 21, 2023