This article provides information about audiences, segments, and visitor retention time.
Tealium AudienceStream CDP Audiences provides a streamlined and powerful audience management experience with the following features:
The ability to create a set of conditions to define a dynamic, real-time audience.
The ability to connect an audience to a connector and define triggers that determine when connectors are fired.
The ability to save frequently used audience segments (groups of conditions) and reuse them in other audiences.
Audience details can be viewed with the following tabs:

Insights – Displays graphs of visitors and audience activity.
Activations – Lists activations and enables you to manage activations for the audience.
Functions – Lists the functions that are triggered by the audience.
How it works
An audience is a group of visitors identified by a shared set of attributes. The conditions for an audience specify the attribute values for visitors in that audience. The more conditions you add, the more specific your audience becomes. Audiences are dynamic, meaning visitors can join or leave audiences as events come in from active visitor sessions.
Audience conditions and segments
An audience is created by defining one or more conditions using visit or visitor attributes. An audience segment is a modular set of conditions that can be used as a building block for audiences. Segments can be layered with AND or OR logic to create an audience. You can use excluding logic to remove visitors that meet the audience conditions. Visitors that meet these audience conditions are added or removed from an audience in real-time based on user-generated events.
AND logic example
A segment for an audience containing visitors who have spent over $1000 and have the Fan badge would have the following conditions:

OR logic example
Additional visitors can be added to an audience by combining segments with OR logic. The following example combines two segments to create an audience that contains visitors with the Fan badge or visitors who have spent over $500. Visitors that match the conditions for either segment are included in the audience.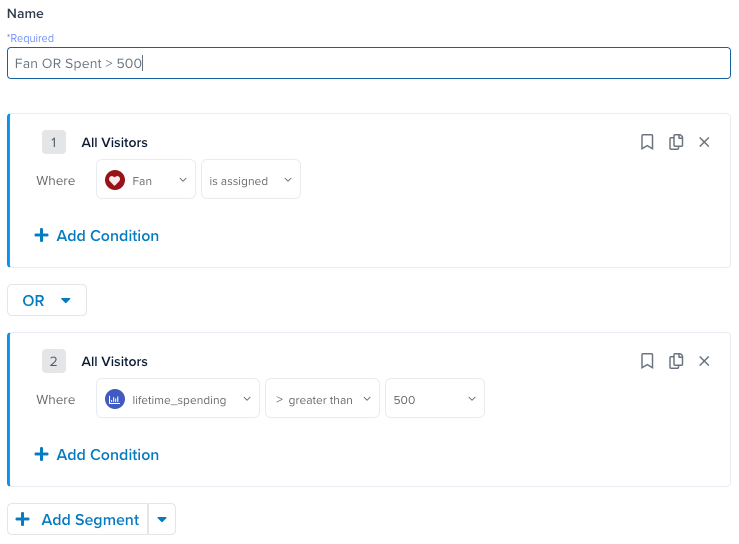 Excluding logic example
To exclude specific visitors from an audience, use excluding logic. For example, to create an audience of frequent visitors that have not visited in the last three days, you could use the following conditions: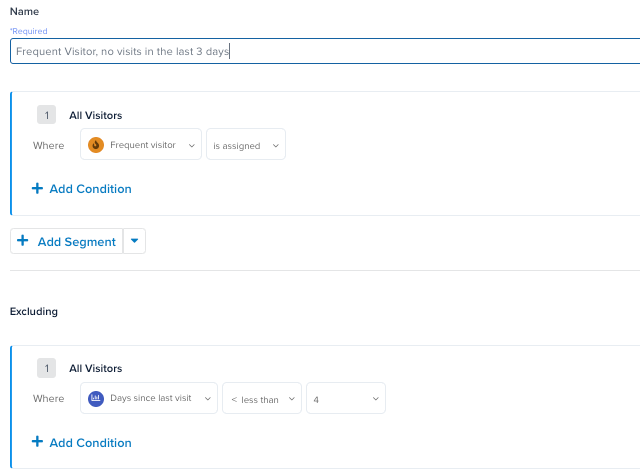 Saved segments
You can save segments while you are adding conditions to an audience. For example: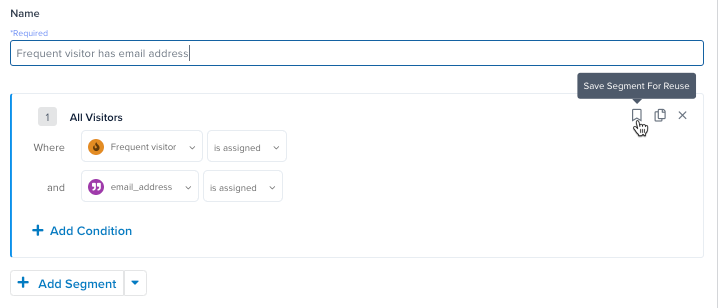 You can view and create segments on the Segments tab on the Audiences page. For example:
After you create a new segment, it is automatically saved. Save and publish is not required. For more information, see Manage segments.
Segments are only evaluated when they are used in an audience and the audience is evaluated. Segments are not available in Data Layer Enrichment (DLE) as part of a visitor profile. Segments are used in audiences and the audiences a visitor has joined are returned as part of DLE.
Currently, segments that are being used in audiences cannot be edited.
Favorite segments
You can save segments to your favorites on the Segments tab, which allows you to filter on favorites for easy access to frequently used segments. For example: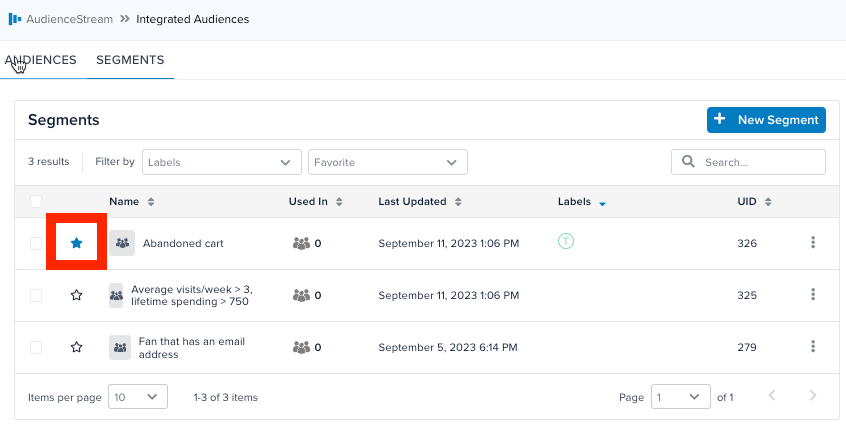 You can filter the list of segments by Favorites and only favorite segments are displayed. For example: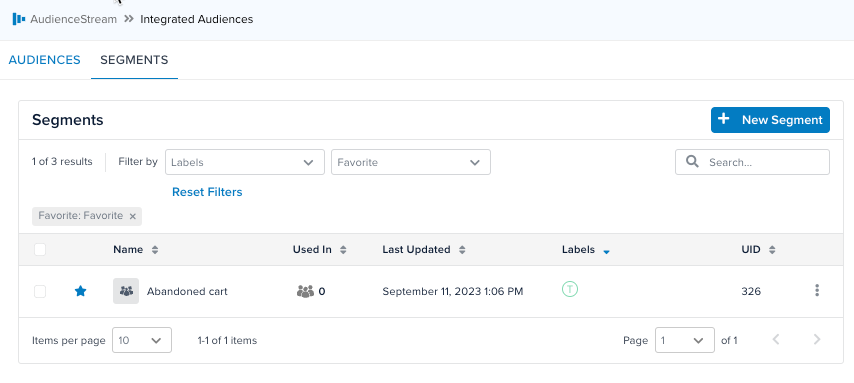 Segment example
The following example shows an audience that uses saved segments in an audience:
The First time visitors segment adds a condition for first time visitors.
The Abandon Cart segment is used in an Excluding condition, which removes visitors that meet the first two conditions and abandoned their cart.
Visitor retention time
Visitor retention time refers to the length of time that AudienceStream retains visitor profiles after their last activity. Each incoming event associated with a visitor profile restarts the retention start time. If a visitor has been inactive for the length of the retention period, the profile is purged from the system.
To make changes to retention time for an audience, contact Tealium Support.
Retention time is specified in two places:
Profile Retention Time in Server-side account settings, which is set for the account and cannot be modified.
Audience Retention Time set for an audience. When Audience Retention Time is set for an audience, it overrides the profile retention time.
The retention time applied to a visitor is determined by one of the following:
Longest audience retention time
If the visitor is a member of any audience with a retention time specified, the longest retention time of the visitor's audiences is used (even if this is shorter than the profile retention time).

Profile retention time
If the visitor is not a member of any audiences with a retention time specified, then the profile retention time is used.
The maximum allowed profile and audience retention times are determined by your contract terms.
Example
If your account has a profile retention time of 60 days, all visitor profiles with a last event activity timestamp older than 60 days are removed from AudienceStream. This means the entire visitor profile is deleted. If that same visitor were to return and trigger event activity, a new visitor profile would be created in AudienceStream.
To store visitor profiles longer than your account/profile retention period, the visitor must be added to an audience that has a longer retention time.
The following example illustrates how visitor retention time works with audiences that have times that are longer and shorter than the profile retention time.
Profile Retention Time: 60 days
"Window Shopper" audience retention time: 30 days
"VIP Purchaser (> $500)" audience retention time: 90 days
Action
Day
Days Inactive
"Window Shopper"
"VIP Purchaser"
AudienceStream
Visits Website,
browses products
May 1st
0
✓ Added
✓ New profile
N/A
May 31st
30
✗ Removed
✗ Removed
Visits Website,
Purchases $550
Aug 1st
0
✓ Added
✓ New profile
N/A
Sep 30th
60
✓ Retained
✓ Retained
N/A
Oct 30th
90
✗ Removed
✗ Removed
This page was last updated: September 13, 2023