Advertising.com Dynamic Retargeter Tag Setup Guide
This article describes how to set up the Advertising.com Dynamic Retargeter tag in your Tealium iQ Tag Management account.
Tag Specifications
Name: Advertising.com Dynamic Retargeter (ADR)
Vendor: AOL
Type: Retargeting Ads
Requirements
Services: Ad Desk
Configurations:
Tag Configuration in Tealium iQ
1. Adding the Tag
Tealium iQ's Tag marketplace offers a wide variety of Tags. Click here to learn how to add a Tag to your profile.
2. Configuring the Tag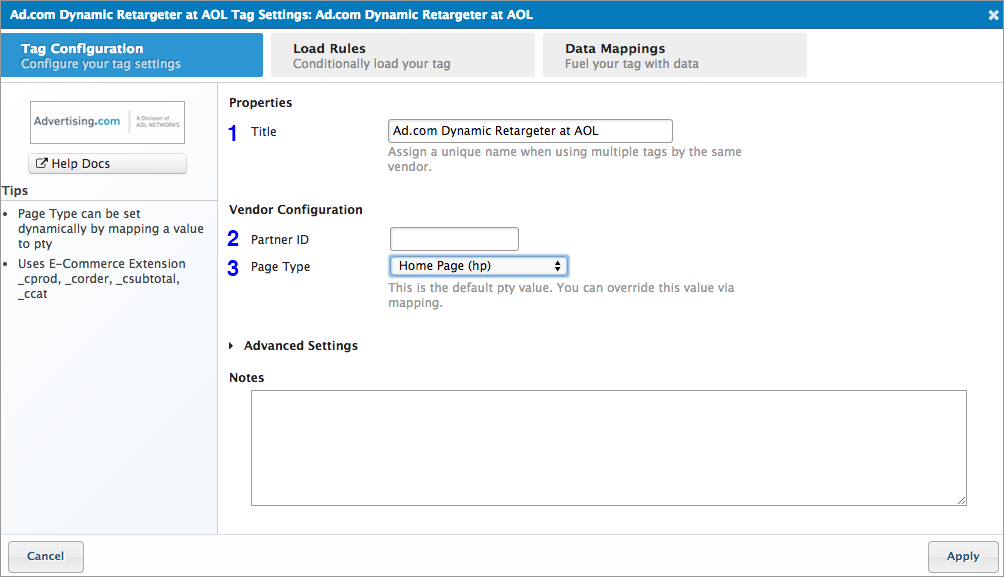 Title (Required): Enter a descriptive title to identify the Tag instance.
Partner ID (Required): Enter the partner ID assigned to you by Advertising.com via Ad Desk.
Page Type (Optional): From the drop-down list, select the page where you want to capture visitors' browsing activities. Below is the Page Type listing available in the drop-down.
Home Page (hp): The home page of your site.
Landing Page (lp): The first page that the visitor viewed upon landing on your site.
Search Results (sp): This page is generated in response to the visitor's search action.
Category (cp): This page displays all the products grouped into a Category. (For example: www.example.com/Furniture)
Product (pp): This page is devoted to a specific product on your site. (For example: www.example.com/ABCMicrowave)
Shopping Cart (ct): This page displays the visitor's shopping cart information.
Order Confirmation (cfp): This page displays the final purchase/order details.
You have the option to override the Page Type selection or set it dynamically via mapping.
3. Applying Load Rules
Load Rules determine when and where to load an instance of this Tag. The Load on All Pages rule is the default Load Rule. To load this Tag on a specific page, create a new load rule with the relevant conditions.
Best Practice: Advertising.com stipulates that this tag should be loaded on the product, cart, and confirmation pages. To do so, you must set up relevant load rule conditions. However, the standard recommendation is to load this tag on all pages of your site, so you can earn a better insight into the visitors' shopping preferences and later leverage that information for retargeting.
4. Setting up Mappings
Mapping is the simple process of sending data from a data source, in your Data Layer, to the matching destination variable of the vendor Tag. To learn how to set up dynamic mapping for this Tag, see the Advertising.com Dynamic Retargeter: Mapping article.
Vendor Documentation
This page was last updated: May 17, 2016